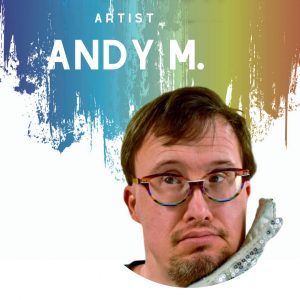 Andy is an energetic, kind-hearted, soulful artist who puts his feelings, interests, and energy in all of his paintings. Andy is on basketball, swimming special Olympic teams and absolutely loves to dance. He can be seen and most times dancing or joking with his friends. While painting, Andy takes inspiration from his famous role models, Michael Jackson, John Cena, and The Undertaker. You will see as he paints, he is doing it with their movements in mind.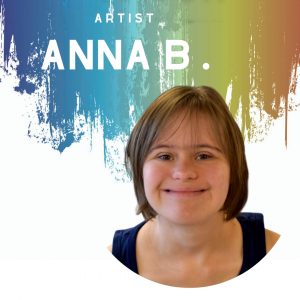 Anna is quiet and shy, but very friendly once she feels more comfortable. Her interests include creating abstract watercolor paintings using bright and vibrant colors. She typically completes close to 12 paintings a day at The Arc through concentration and precision. When Anna is not painting, she likes to spend her time weaving. When she is taking a break from her diligent work, she is usually laughing with her friends or dancing. Outside of The Arc, Anna loves watching movies, her favorites being Beauty and the Beast and Mary Poppins.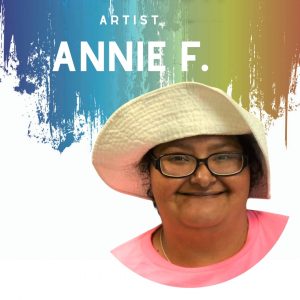 Annie is an intelligent and funny person. She loves spending her free time listening to music, hanging out with friends, and relaxing at home. Coming to The Arc is always a fun experience for her. She enjoys learning new techniques in the lessons, but her medium of choice is acrylic paints and diamond paintings. Annie loves telling jokes and making her friends laugh. Annie is so thankful to anyone that helps with her artistry.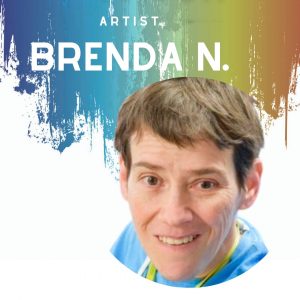 Brenda is very thoughtful and dedicated as she creates her artwork. She works diligently and consistently on a piece until she feels like it is finished. Brenda enjoys hanging out with her friends and family, as well. She likes to experiment with new mediums and work styles but really loves painting with acrylic on canvas.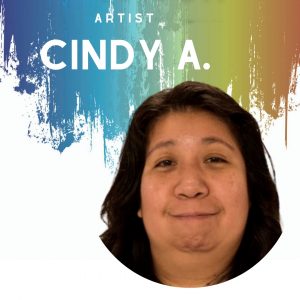 Cindy is a quiet and reserved artist. She takes inspiration from books about various master artists. While in the studio, she can be seen studying the different styles of their artwork and creates her own unique pieces by implementing her individualistic style. Cindy is a detailed oriented artist who encompasses the whole picture as she paints. Her preferred mediums include chalk pastels and acrylic paint. When not painting, she loves to take walks with her dog and swim. Cindy enjoys listening to people talk and learning about their interests.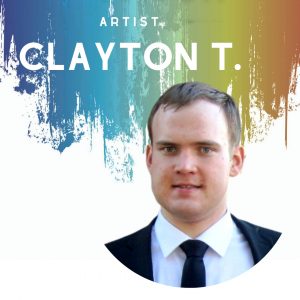 Clayton is an incredibly talented artist. He has an eye for detail and loves to create intricate digital drawings, paintings, and sketches, mainly animals and famous landmarks. Clayton hones his skills by taking part in the virtual art education classes at The Arc through our new Virtual Education Program. The instructors are always so impressed with Clayton's interpretation and artistic flair, which he brings to class. Clayton is polite and kind, always asks how you are doing, and loves to share what he's been up to on the weekend. In his spare time, Clayton plays video games, practices yoga, and also has a part-time job that he works at on the weekend. Clayton has so much talent to share with the world.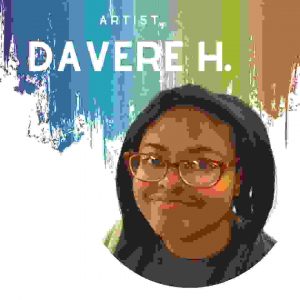 Da'Vere describes herself as caring, introverted, cheerful, and nice. Her accomplishments include graduating high school and becoming more social by attending class at The Arc. She wants everyone to know that being an artist at The Arc is really fun! DeVere is learning her strengths and weaknesses as an artist and is becoming more sociable through the Virtual Education Program. Da'Vere particularly enjoys creating paintings on canvas with acrylic paint of things she enjoys, such as K-pop, Korean dramas, nature, and animals. Attending classes at The Arc has improved her life by making her day better and giving her something to look forward to every week.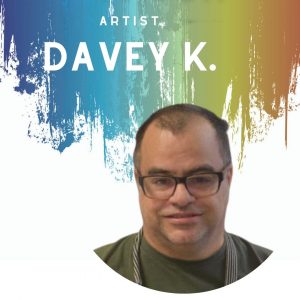 David is an avid painter because he says, "It feels good, and it's exciting." Before coming to The Arc, he spent his time helping his mother around the house and building model cars, like the 1955 Thunderbird. One of the accomplishments he is most proud of is selling his artwork to other people. His inspiration comes from movies, history books, and the internet. David is inspired by the beautiful world around him.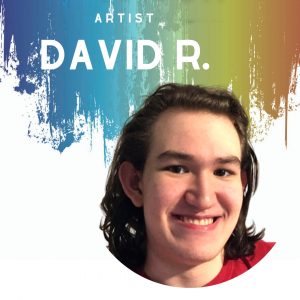 David is a story based artist; all his work has a story behind it and its own life. David primarily works in digital media and creates his own comic book series. David enjoys being with his family, creating comics, watching movies, and swimming. He states, "being at The Arc makes me feel creative and happy. I get to use my imagination." Typically, David enjoys using colored pencils because it's relaxing for him. Currently, he is enjoying painting with acrylic as well as working digitally.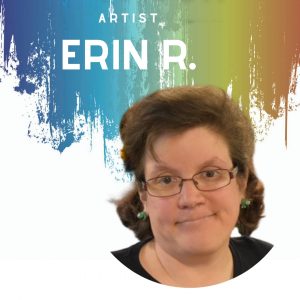 Erin is a very talented artist at The Arc and is expanding as an artist by attending our art education classes through our Virtual Education Program. Erin describes herself as shy, but she is a little more outgoing once she gets to know you. As an artist, Erin enjoys working with acrylic paint and creating diamond paintings of detail-oriented animal portraits and anything Disney related! Outside of the Arc, she loves to take her dog on walks, go bowling with her friends, volunteer, and sing! Erin finds that art makes her feel relaxed and happy, and she loves it when she can sell her artwork!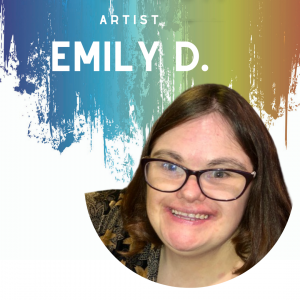 Emily is a beautiful artist; she has her very own signature style. She always uses bright colors, and her paintings will definitely bring a smile to your face. Emily's inspiration for her artwork comes from animals and nature; you will always see these two things in her art. Her favorite medium to use is acrylic paint with paint markers to create her details. When Emily is not painting, she loves swimming, shopping, and going to the movies. Creating art makes Emily excited and happy!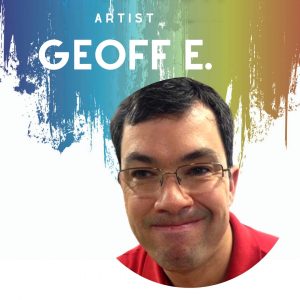 Geoff is an incredible abstract artist who is super friendly and very funny. He uses images he finds appealing and then draws inspiration from those to create his artwork. Geoff is a gold medalist at the Special Olympics and an avid bowler in a band. He loves participating in theater class and has fun playing big and bold characters. He also engages in active recreation and yoga to get his body moving and stretching.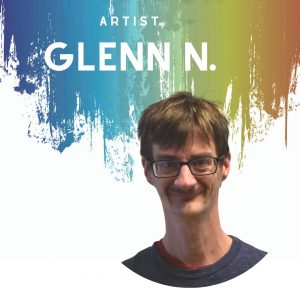 Glenn has really come a long way since he first came to The Arc a few years back. He first started working on re-creating rock band logos with acrylic on canvas and has since gone to try more abstract concepts with bold colors and lines. Glenn is always happy to be here, throws himself into his artwork 110%, and is still interested in learning new things. When Glenn is not working on his artwork, he enjoys playing basketball, soccer, volleyball, and the Special Olympics.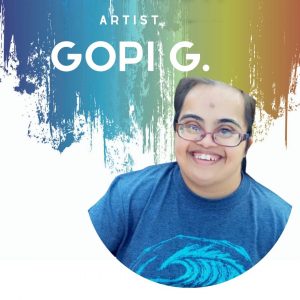 Gopi is an artist, a comedian, and a great friend! Gopi creates colorful paintings with the subject matter she is passionate about, such as flowers, trees, and other scenes from nature. You may also find Gopi coloring in intricate mandala designs, and she has a fantastic eye for detail, which she brings into all of her endeavors. Gopi is kind-hearted and will always ask how you are doing and crack a joke to make others laugh at any given opportunity. Gopi participates in many classes at The Arc, such as art education, expressive arts, and active recreation. You can tell Gopi is always ready to try new things and challenge herself, and this sense of adventure can be found in her beautiful paintings.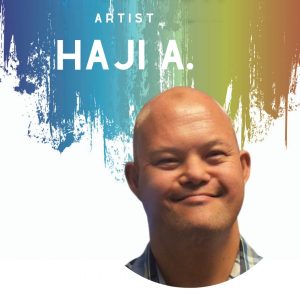 Haji is a sweet and caring artist. He always checks in with everyone at the beginning of class and how their families are doing. He loves playing games like UNO and going bowling with friends. A very detail-oriented artist, Haji creates elaborate pencil drawings of his favorite things such as football, family, nature, or animals. He then carefully goes back over his drawings with acrylic paint or watercolor using individual brushstrokes. Finally, he completes his painting by putting a title at the top of the canvas. Haji works hard on his artwork for hours every day and also likes to make artwork for others. We are proud to have him at The Arc!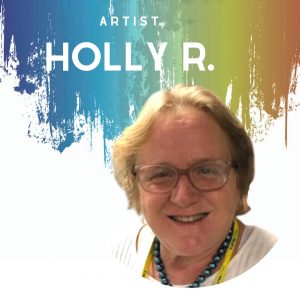 While looking at Holly's artwork, you will notice the movement she puts into a piece. She is quick to finish each piece of artwork and loves painting flowers and streams. She paints with acrylic paint, adding a lot of paint to her brush to have a continuous line. Holly has her B.A. in Arts from Texas A&M with a specialization in computer science. Outside of the Arc, she enjoys spending time with her daughters and dancing! She also enjoys talking about her artwork with everyone and cracking jokes about anything and everything.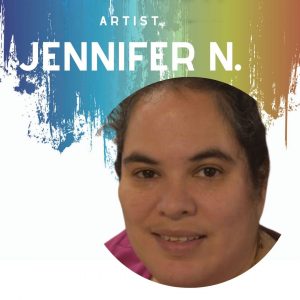 Jennifer is very friendly and quick to say hello and goodbye every time she is at the Arc. She loves listening to music and talking with friends. Jennifer usually works with colored pencils and crayons on paper and loves tracing out figures. She also loves coloring books and coloring cute cartoon animals such as rabbits, deer, and foxes. She also loves coloring landscapes filled with trees, waving grass, and sunsets.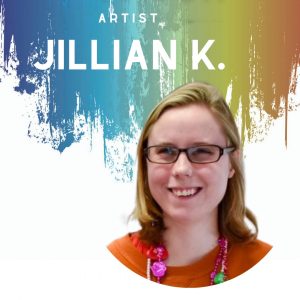 Jillian is so kind and creative. Jillian will always remember your name and loves to learn about the lives and passions of others. Jillian's eye for detail is seen in her artwork. She is known for creating incredibly detailed paintings of wildflowers, which she will spend hours on. This dedication is so incredible and really shows in her fantastic artwork. Jillian creates art across mediums such as clay, collage, pencil, pen, and acrylic paint. Jillian's artistic passion also comes out in her love of holidays and celebrations and enjoys crafting decorations. Jillian is a wonderfully talented artist and person.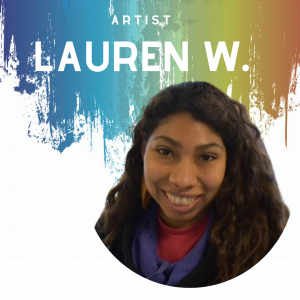 Lauren is a person of many talents. You will usually find Lauren working hard on her latest project or helping a friend with their work. Lauren is known in class as a person who is there for others and loves sharing her skills. Her artwork is exciting and surprising and has an impressionistic feel to it. Lauren creates stunning movement within her paintings through her unique, individual brushstrokes. She loves to take traditional subject matter like animals and nature and add her own artistic flair. She is very adept with acrylic paintings, using blending and shading techniques to create exceptional pieces. Lauren says her family is a massive inspiration for her artwork and loves creating paintings that they will enjoy.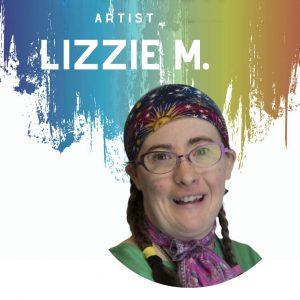 Lizzie is an established artist at The Arc as well as a good friend to others. Her artwork is inspired by the activism during the 1960s. "I believe people with disabilities have a right to be who they are, and I believe in civil rights, equal rights, and justice for all." Her favorite medium to use when creating art is colored pencils on the poster board, and she especially loves drawing people who inspire her as an activist. "I really do like being here at the Arc because it is my natural-born talent to be an artist, but not only that, I am an activist." Outside of The Arc, she hangs out with her mom, her roommate, and her dad. Making art at The Arc "really does make me feel a whole lot better."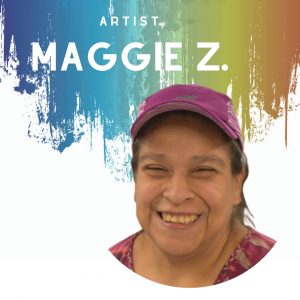 Maggie is an artist who likes to paint animals and loves to be involved with the lessons each week. She pushes herself to paint new landscapes, silhouettes, and very textured and multicolored animals. Outside of The Arc, she spends time with her family, helps her sister around the house, and loves to listen to music. She would describe herself as "happy-go-lucky because I laugh so much." Being an artist at The Arc is "fun because I make new friends. It has made me love art. I am happy and proud."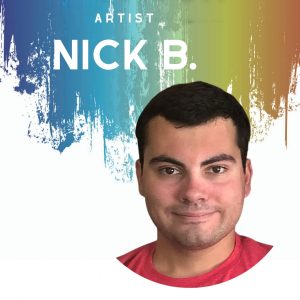 Nick is polite, personable, and loves trying new things! Nick loves using color in his artwork. You will often find him coloring in pictures with a range of shades and hues. Nick always asks how you are doing and likes to get to know new people and make new friends. He enjoys Disney movies, dancing, and yoga. Nick has a great attitude and loves participating in his classes to his classmates and instructors' joy.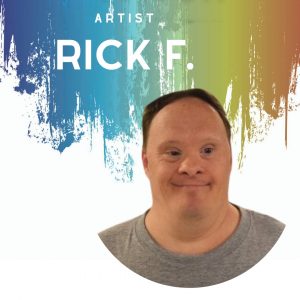 Rick is an illustrator and a painter who depicts his subject matter in an architectural, somewhat cubist fashion. He enjoys illustrating buildings and people in a very structured manner. When he is not painting and drawing, Rick enjoys drumming, bowling, and participating in Special Olympics. Rick draws inspiration from the world around him, particularly things that interest him, such as John Cena and famous musicians.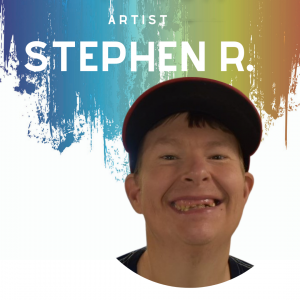 Stephen is an outgoing and welcoming artist at The Arc. He plays "games and puzzles, walks his dog, Lady, plays Bocce in the park, and watches TV." He is a proud Eagle Scout, plays on several special Olympic teams, and is in a band. Stephen would describe himself as "a sweet person-friendly, quiet and funny." He enjoys working in his own styles, such as bedazzling his paintings, boots, and trophies. He's inspired by the art lessons and sports. His favorite mediums are sculptures and bedazzling. He likes to do art at the Arc because "it relaxes me."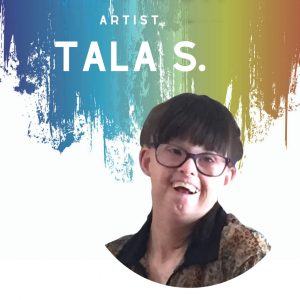 Tala is a detail-oriented, diligent artist. She has a huge heart, which shows in her friends, family, and everything she puts into her artwork. Tala enjoys sharing her love of the arts with people and creates artwork based on what she is moved by. Tala particularly enjoys working with acrylic paint on the canvas of things relating to Austin and Texas. When not at The Arc, Tala can be found swimming for the Special Olympics and hanging out with her friends and family. She loves music of all kinds and can generally be seen dancing while creating her artwork. Tala's favorite song to dance to is All the Single Ladies by Beyoncé!
Thomas is a structured and thoughtful artist. He loves using a color-by-number drawing as a reference to paint it to work on the accuracy of his painting skills. Thomas is an avid public speaker for disability rights and enjoys going to school at ACC, currently taking a business/finance course. Thomas is a very detail-oriented person, and this shows in his artwork. When not at The Arc, Thomas can also be seen bowling, swimming, or just hanging out with his friends.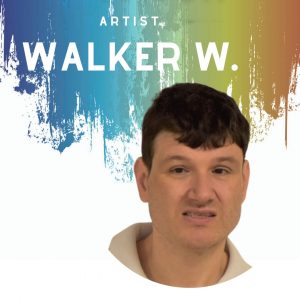 Walker describes himself as "funny, smart and friendly," and being an artist at The Arc makes him happy as it has "made my life better." He likes to paint, and he also enjoys drawing. The teachers and the other students inspire him to try new things. In his spare time, he wants to exercise, eat supper, and listen to the radio. Yoga is his favorite art form, as it makes him feel calm. He also does very accurate impressions of Kermit the Frog, Cookie Monster, and Fozzie the Bear. Walker loves playing Captain James T. Kirk in theater class and narrating the improvised class stories. If a song is playing on the radio, 9 times out of 10, he knows which artist is playing and the album name and year that it came out. Walker says, "I feel happy, smart, and relaxed when I create artwork."