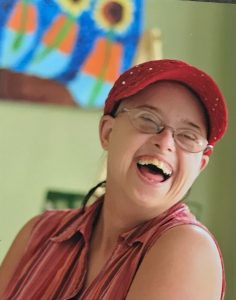 Tala was an accomplished artist with paintings displayed publicly around Austin. She also excelled at swimming the butterfly stroke. In her early twenties, she was the fastest butterfly swimmer at Texas Special Olympics, and her favorite swimming event was the freestyle relay team. She loved music, dancing, book club, and watching shark movies.
She was exceptionally dedicated to her family, including her parents, Glenda and Majid Shoghi, her brother and sister-in-law, Alexander and Irene, and their children Cyrus, Rhodes, Winston, and Laskarina.
Tala Pearl Shoghi passed away on June 2, 2022, just two weeks shy of her 37th birthday, after a lifelong battle with auto-immune disorders. Although it was tragically cut short, her tenacity and determination allowed her to live a robust and fulfilled life. Few people knew the struggles and debilitating pain she faced due to her contagious boundless optimism. Tala wanted everyone to live a life of happiness and authenticity and to pursue their dreams!
Her family started the Tala Shoghi Memorial Fund in honor of how Tala led an authentic and joyful life! Her family knew Tala would want others to have an opportunity to build a community and joy around Art and Education. The fund was established by her parents, Majid and Glenda Shoghi, to provide tuition for low-income students of The Arc of the Capital Area's, Art and Education programs. If you would like to designate your donation directly to The Tala Shoghi Memorial Fund to help us keep our Art & Education program accessible to low income students, please confirm that it is selected in the Designation drop-down menu below.