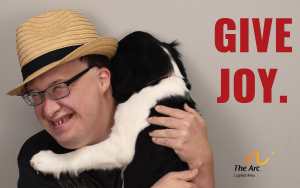 For more than 70 years, The Arc of the Capital Area has removed obstacles for people with developmental disabilities and given hope to them and their families by providing Art Education Classes and Gallery, Case Management, Supported Employment Services, and Pet Therapy.
Last year your contributions brought joy to individuals with intellectual and developmental disabilities (I/DD) by:
Empowering 792 adults with I/DD to live independently
Supporting 282 children and adults with educational advocacy & transition services
Providing post secondary education services to 113 students
Helping over 62 individuals gain and maintain competitive employment
How will YOU give joy this year?
Continue giving joy all year long!
$1,000 GIVES clients career and technical education.
$500 GIVES clients the support to live independently.
$100 GIVES clients competitive employment.
$75 GIVES clients art supplies.
$25 GIVES clients access to dog therapy.
Any amount helps!
*$25 or more will receive recognition on our website