The Arc of the Capital Area provides comprehensive employment services, funded through state VR, to adults with intellectual and developmental disabilities. The goal of our services is to help individuals find and maintain competitive integrated employment that is aligned with their unique strengths, abilities, priorities and interests.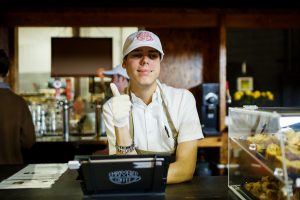 Basic Employment Services
We provide employment assistance that trains and prepares customers for the job search, helps customers gain positions that meet their individual needs, and assists customers with job skills training needed to keep a job.
Job Placement Services
Job application training
Resume development
Interview training
Job Skills Training
Teaches skills
Reinforcing skills
Implementing accommodations
Work Experience
Work experience services provide an opportunity for customers to determine if they are ready for competitive integrated employment, explore career options and develop skills to include in a resume for a certain vocation.
Placement: Secure appropriate work site.
Monitoring: Support to maintain position at work site.
Training & Coaching: Additional training to support the training at work site.
Personal Social Adjustment Training (Work Readiness)
Work Readiness Services (PSAT) prepare participants to excel in their abilities to successfully obtain and maintain competitive integrated employment. The Arc of the Capital Area provides services related to disability issues, interpersonal skills training, daily living skills, and issues that interfere with obtaining or maintaining employment to support customers in achieving work readiness. Work Readiness Services benefits customers who have never worked, have not worked for a long time, or have a sporadic work history, and it prepares customers for successful employment so that they can manage or address vocational impairments and be self-sufficient.
Personal Adjustment
Self-evaluation
Restoring confidence
Self-advocacy
Disability management
Motivation
Personal health and hygiene
Personal appearance and grooming
Social Adjustment
Basic etiquette
Interpersonal skills
Conflict resolution
Time management
Effective communication
Workplace interactions
Acceptable work behaviors
Supported Employment
Supported employment enables customers with the most significant disabilities to gain and maintain competitive integrated employment.
Supported Employment Program
Individualized assistance to find appropriate job match.
Ongoing support services.
Establishing long-term supports for the customer to maintain a long-term competitive integrated employment outcome.
For More Information Contact:
Amber Nelson
Director, Employment and Education
Email
737-900-3918