Our professional instructors help students to find an artistic means to best express themselves, promoting client-directed goals, self-determination, social skills, increase employment skills and gaining a sense of independence and pride! We daily bridge the gap of post-secondary education support for the I/DD community and their families.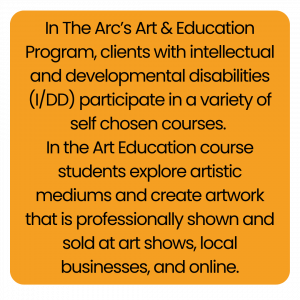 Purchase unique artwork created by the artists of The Arc!
                               Visit The Arc Artist Storefront                                    
The Art and Education Program currently offers two locations:
Don't see a campus close to you? Reach out to the Director of Employment and Education, Anne Smith and let her know what area you are in!
We are expanding and may be coming to you shortly!
Monday through Friday from 9:00 a.m. to 2:00 p.m.
Each day we offer a variety of educational opportunities in Visual Arts,  Expressive Arts, Active Recreation, Gardening and many more!
To for a tour or to register:

Review the Handbook
Fill out the  Interest Form via our secure web portal
We will review your application for eligibility
If eligible you will be required to fill out other forms through our secure web portal
We will schedule you for 3 free trial days to see if the program is a good fit for you; this will give us an idea of how you socialize with others, etc.
If you are accepted, we will work with you and your case manager to get any additional paperwork needed
Payment is due on the first day of class, if you are paying privately
*Private pay and waiver options are available
For more information on the program, view the student handbook and complete the interest form
Contact Information
Anne Smith,
Director of Art and Education
asmith@arcausin.org